10. Sound of Metal
The impressive debut film from director Darius Marder is winning raves for its sound design, which replicates the experience of being hearing impaired, at various levels, for the viewer. Rightly so; it's a neat trick, and it helps to immerse the viewer in the soul of its lead character. But when I think of Sound of Metal, I think of its people. I think of Riz Ahmed's eyes: big and white, with black holes in their center. Ahmed plays Ruben, a heavy metal drummer and recovering addict who has built a compact life for himself with his girlfriend and collaborator Lou (Olivia Cooke). When he suffers his massive hearing loss, all of it goes away: his career, his passion, his home, and his girlfriend. Ruben enters a home for deaf addicts, where Lou isn't permitted. Ruben is terrified.
The change is so massive and so sudden that he can't quite comprehend it at first, let alone embrace it. A few episodes of understandable anger aside, Ahmed spends much of the film appearing calm and collected, while his eyes betray the abject terror that's pushing against his insides. Sound of Metal is stacked with an incredible cast – Cooke offers a masterclass in reacting, while Paul Raci is a steadying presence as the home's weary administrator – but it's Ahmed who commands our attention, playing to the silence and making his voice heard.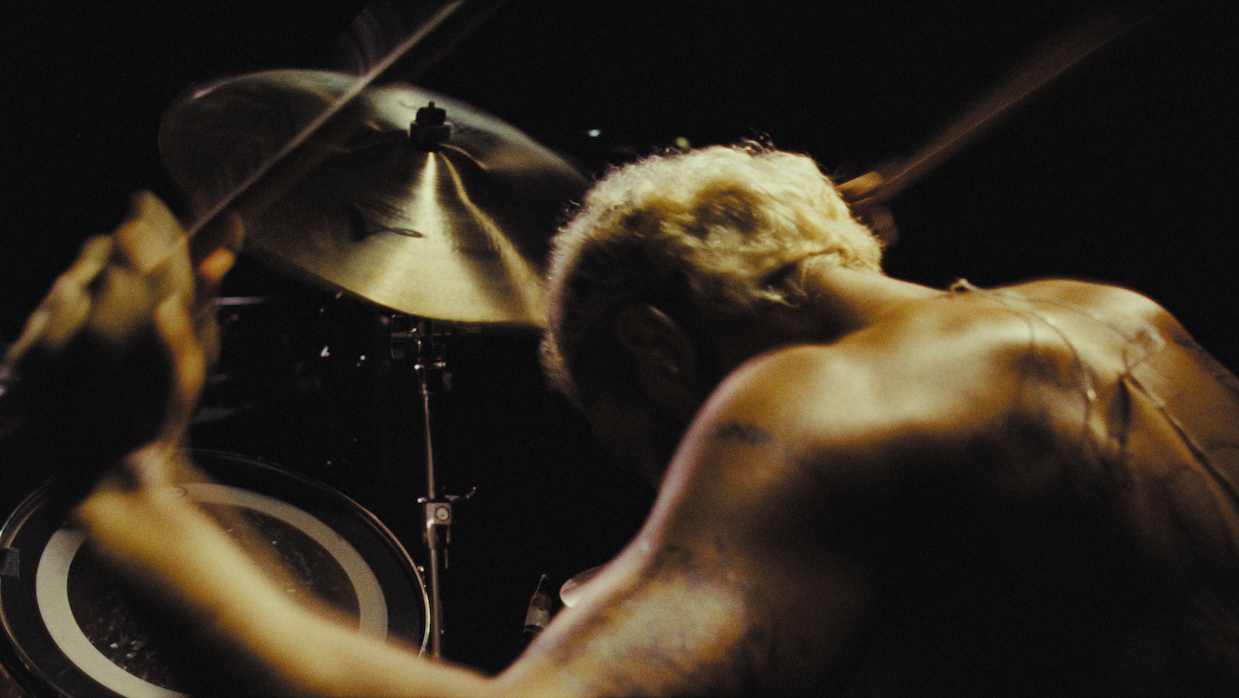 Over the last five weeks, Amazon has released director Steve McQueen's Small Axe series, five works varying in length from one hour to just over two. Each is set in the same West Indian community of London, but in a different time period. Film and television critics have struggled categorizing them: Are they five separate films or one limited series? For me, the eye test does it. The last three feel like TV episodes because they can't stand on their own. But the first two – Mangrove and Lovers Rock – are films. I'm lumping them into one spot because I can.
The truth is that they don't have much in common besides their setting. Mangrove is a courtroom drama about the owner and patrons of a Black-owned restaurant who are continuously hassled and abused by the police. They stage a march to protest their treatment, but it turns bloody when the police show up to quash it. In the aftermath, several of them are charged with inciting a riot, but where the film takes on unexpected resonance is in their strategy to forgo legal representation and act as their own lawyers, largely so they can directly interrogate the racist police officers on the record.
Their strategy is based on a notion that justice for them cannot be achieved through conventional means, a sentiment expressed in this year's other big courtroom drama. The Trial of the Chicago 7. I enjoyed that film, too, but it hasn't lingered in my heart the way Mangrove has. The direct confrontations between victims and their abusers is deeply cathartic, and the actors, especially Shaun Parkes as the restaurant owner and Letitia Wright as an eloquent activist, capture a strength borne from collective pain.
As for Lovers Rock, well, it's just gorgeous. It's only an hour long, and most of it takes place inside a house party, where a small group of young men and women do what young men and women do: try to hook up. McQueen has spent most of his career exploring the damage done to human bodies in Hunger, Shame, and 12 Years a Slave. In Lovers Rock, he wants only good things for them. His camera slithers around the dance floor, a divine force that both observes and creates. Young bodies careen into each other like atoms making molecules, and McQueen lets us luxuriate in how ecstatic life can be when you're young, hungry, and beautiful.

8. Tommaso
Many a director has made a thinly-veiled autobiographical film about a director suffering personal and professional crises, but rarely has the veil been as thin as it is in Tommaso. It's Abel Ferrara's improvised masterpiece starring Willem Dafoe as the director's avatar, and it features Ferrara's own wife and child as, you guessed it, the director's wife and child. The protagonist juggles pre-production on a film that doesn't seem to be going well with his fragile sobriety and the increasing distances he feels from his wife. Yes, his core problem may be that his wife doesn't really want to fuck him now that they have a baby, but he's also a recovering addict with a growing rage problem and a fantasy life that's encroaching on reality. Sometimes it's hard to know whether it's the little things or the big things that are driving you mad. Or if we just don't recognize which is which.
There are shades of Fellini's 8 ½, but it's more of a character piece than an insight into the creative process. Dafoe is miraculous here, and well-cast. He has played so many psychopaths in his career, but here he's a semi-normal guy on the edge. He has several engrossing monologues at his AA meetings that both offer a rich backstory and a window into his brittle state. Then there's his slow, methodical unraveling. When he finally loses his temper towards the end, you experience the same emotional release that he does, but part of it is that he has finally turned into the Willem Dafoe we know best, bared teeth and all. It's a finely calibrated performance in a thrillingly honest film.

7. Boys State
At the end of Michael Ritchie's The Candidate, Robert Redford's character, successful in his unlikely bid to become a U.S. Senator, turns to his campaign manager and says, "What do we do now?" The campaign manager can't hear him over the roar of the crowd, and apparently neither could we, because here is Boys State, a documentary about the next generation of political leaders that implicitly asks the same question. Boys State is a one-week political fantasy camp for ambitious teenagers sponsored by the American Legion that has been going on for decades – lots of future politicians attended, as well as Bruce Springsteen and James Gandolfini – but this is the first time anyone has filmed the proceedings. The results are in: The future is fucked.
The first horrifying thing is that the camp focuses only on political campaigning, not on policy or governing. The camp ends with an election, and everyone goes home. Before that, there's backstabbing, mudslinging, grandstanding, and, if you squint, a little earnest campaigning. What's most terrifying is how the film mirrors the way our elections actually go. The kindest soul in the bunch has a promising campaign going early on, but he gets attacked by a primary opponent and is mortally wounded for the general election, where an evil little fucker from the other side uses every dirty trick in the book to try to take him down. Not all of these kids are monsters, but they're all laser-focused on winning (indeed, that's the problem with the entire Boys State enterprise), so we can guess what will happen when money and real power are involved. Those of us who hope that the next generation of Americans will fix our mistakes have another thing coming. The kids aren't all right, and it's probably our fault.

6. Nomadland*

*This sucks, but Nomadland was only recently available to stream for a week through Lincoln Center, and now you can't see it until February. It's worth the wait.
If you care about film, the name Chloe Zhao is going to become very important to you very soon. The young director who helmed 2017's excellent The Rider has a big Marvel movie called The Eternals on tap for 2021 that is centered around superheroes of color. In between she made Nomadland, which isn't available for most of you to see until February but is nonetheless the current front runner for Best Picture. Let's talk about it.
Like The Rider, Nomandland is a film made with a cast of both veteran actors and first-time performers. Frances McDormand stars as Fern, who, after losing her husband and her job, decides to go nomad: She buys a van and lives in a perpetual state of motion. Is she homeless? Technically, but that's not how she and the increasingly large community of American nomads see it.To them, it's a lifestyle and a choice. The van isn't great on mileage, but it affords her freedom, a low cost of living, and, as the film suggests, a chance to outrun her grief. We learn this through the stories of real-life nomads like Swankie, who becomes the closest thing Fern has to a best friend, and Bob, who runs a sort of boot camp for new nomads. One of the biggest achievements of the film is that McDormand, in one of her best performances yet, blends in seamlessly with them. Together, Zhao and McDormand have created a shared space where fiction and non-fiction meet, where non-actors can act and seasoned pros can just exist. It's cinematic alchemy of the highest order.
If you think about it, Nomadland has a lot in common with Sound of Metal. Both films are centered around a character who loses everything and survives only through immersion in a new community of outcasts. They're shot naturalistically with a keen sense of silence. They're both about quiet places, really. There are no villains in these movies – they're too attuned to the pain of their protagonists to require them – and almost all the characters are nice. What is it about these films that resonate in 2020? Maybe it's that we're all grieving for our past lives. Maybe we know deep in our hearts that, despite our wishes to return to the way it was, nothing will be the same after 2020. These are films about learning to cope.
Not to end this missive on a down note, but I will say that Nomadland could have very well been my favorite movie of the year, if not for its tendency to underline its themes a little too much. For me, Nomadland is poetry at its best, but it turns itself into prose a little too often, asking its characters to explicitly verbalize the connections between their grief and their chosen lifestyle. It doesn't need to. It reveals its meaning in every sunset, every shared smile, every moment of stillness. Spelling it out for the audience only reduces its power. Then again, your mileage may vary.
To be continued…